Comau is shaping innovation with advanced automation solutions: experience our innovative technologies.
Comau is unveiling its new advanced automation solutions at Automatica in Munich, Germany (June 27-30), with the aim of bringing the benefits of flexible and cost-effective automation to unstructured environments and emerging industries.
Experience our unique approach to smart automation and see how Comau innovation is meeting increasingly variable production requirements inside and beyond the factory walls.
Discover how Comau is helping companies save time, energy and resources with fully automated random bin-picking and depalletizing solutions. Meet the new mobile welding robot and the automated outdoor solar panel installation system. And explore the benefits of Comau's mobile and wearable robotic solutions.
Join us at Automatica for an exclusive look at Comau's Advanced Automation Solutions: Booth B4 109. Click here and get your ticket with this voucher code: comauauto23
Comau technologies showcase
Enable smart automation with Comau's products, technologies and digital solutions.
Click the links below to learn more:
---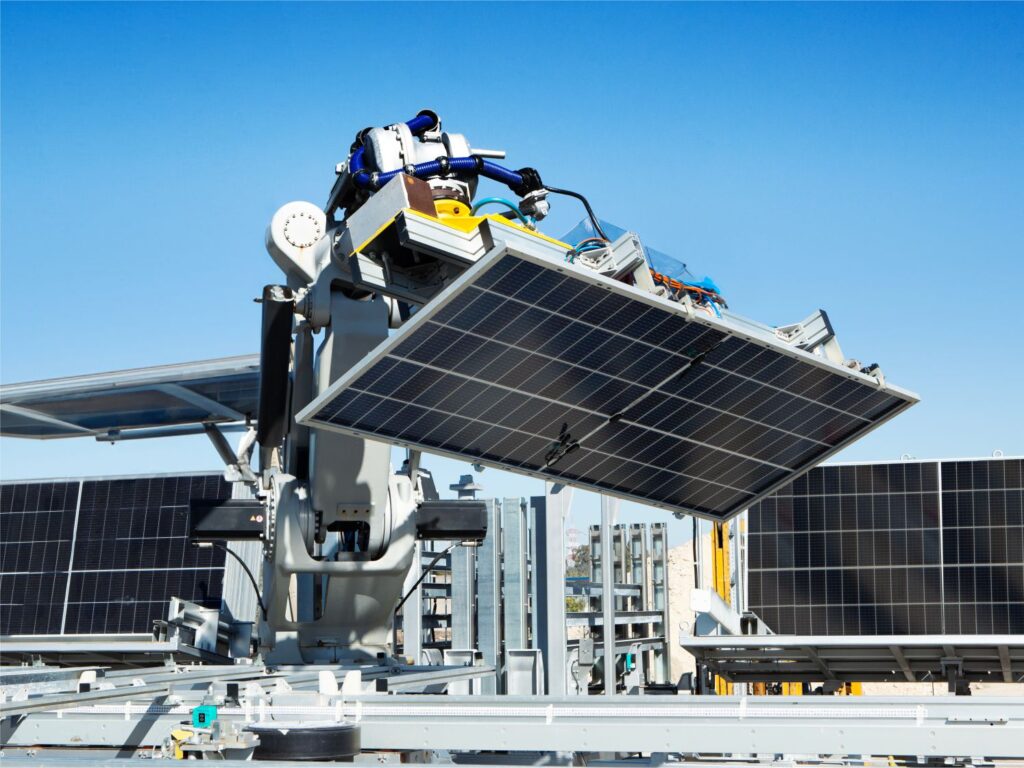 Hyperflex
Comau's patented Hyperflex system for automatic solar blade installation directly in the field, is an outdoor mobile temporary factory to construct faster, better quality photovoltaic plants. By enabling the transition from construction to manufacturing, it helps speed time-to-market by up to 25% for new installations.
---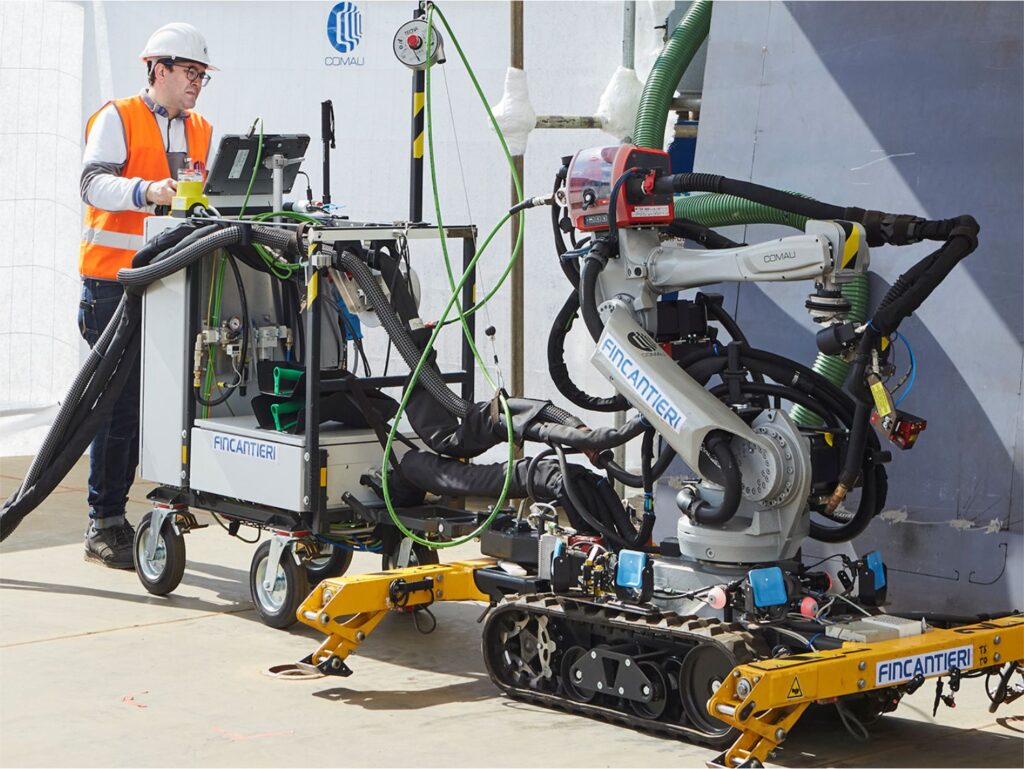 MR4WELD (Mobile robot for welding)
Outdoor automation is helping improve quality, performance and well-being during labor-intensive welding activities. An example of which is the MR4WELD – a mobile robot welding device able to work inside ship units, blocks, and other unstructured environments to perform both joint plate and fillet welding between structural parts. MR4Weld also collects interconnected data from the welding process to verify the quality of welded points. Characterized by its full mobility and ease of use, the autonomous welding solution can be managed by a single operator during both the transfer and welding activities.
---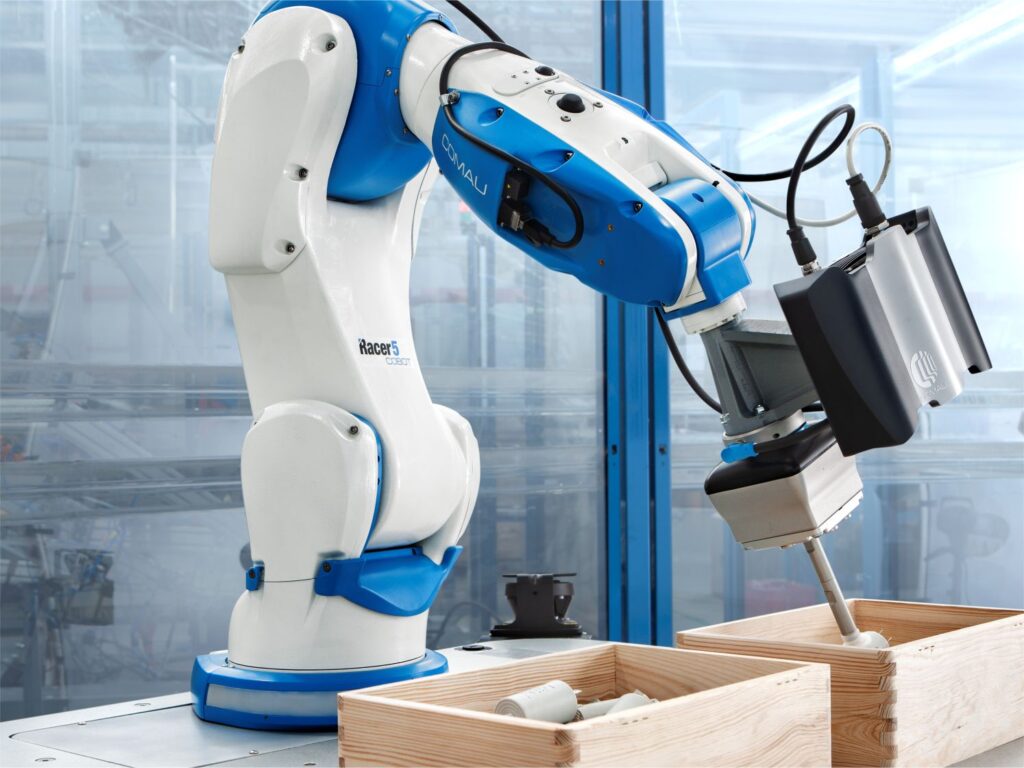 MI.RA/Picker
Adaptable to any brand of commercial robot, customized bin, or customized gripper, MI.RA/Picker automatically identifies and grasps randomly placed objects while guaranteeing optimal path management. It can therefore reduce upstream process times, as products can be dumped into bins instead of being singularized, while ensuring a simplified logistic flow. A collision free solution to optimize the entire process.
---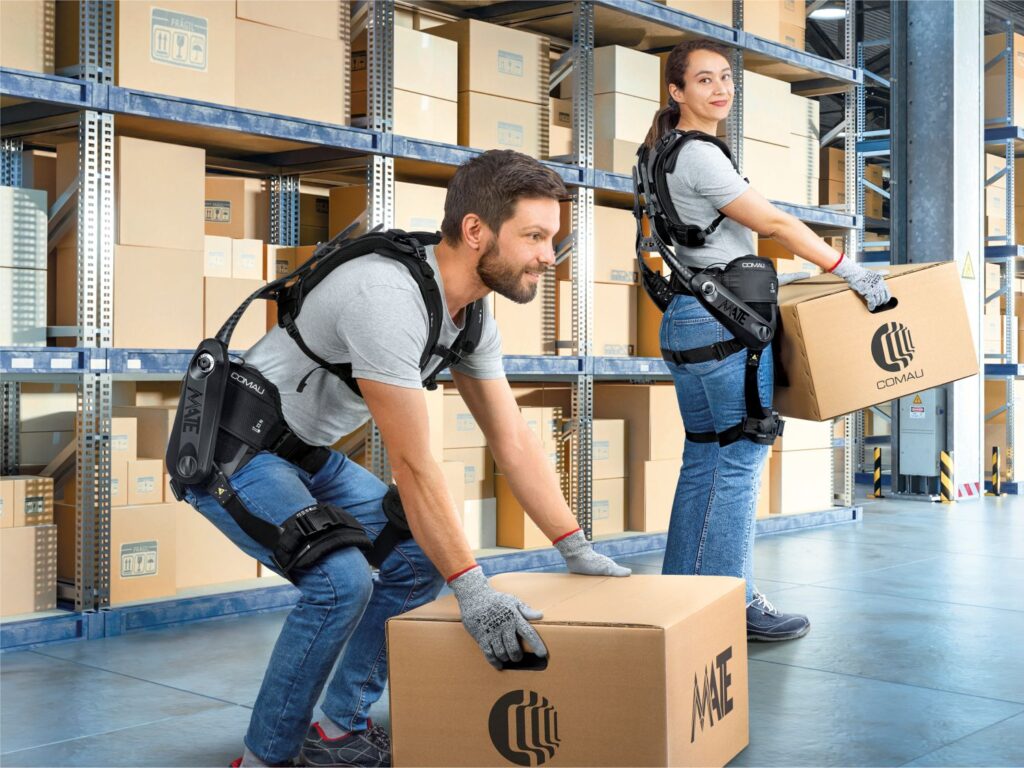 MATE-XB
MATE-XB is the newest non-powered exoskeleton for relieving muscular effort at the lumbar district for workers who have to move weights. Developed with lightweight and robust technology, it supports the user while working in different positions, granting full mobility of the whole body. The device is designed to reduce back strain during lifting and bending activities and improve the quality of the user's work.
---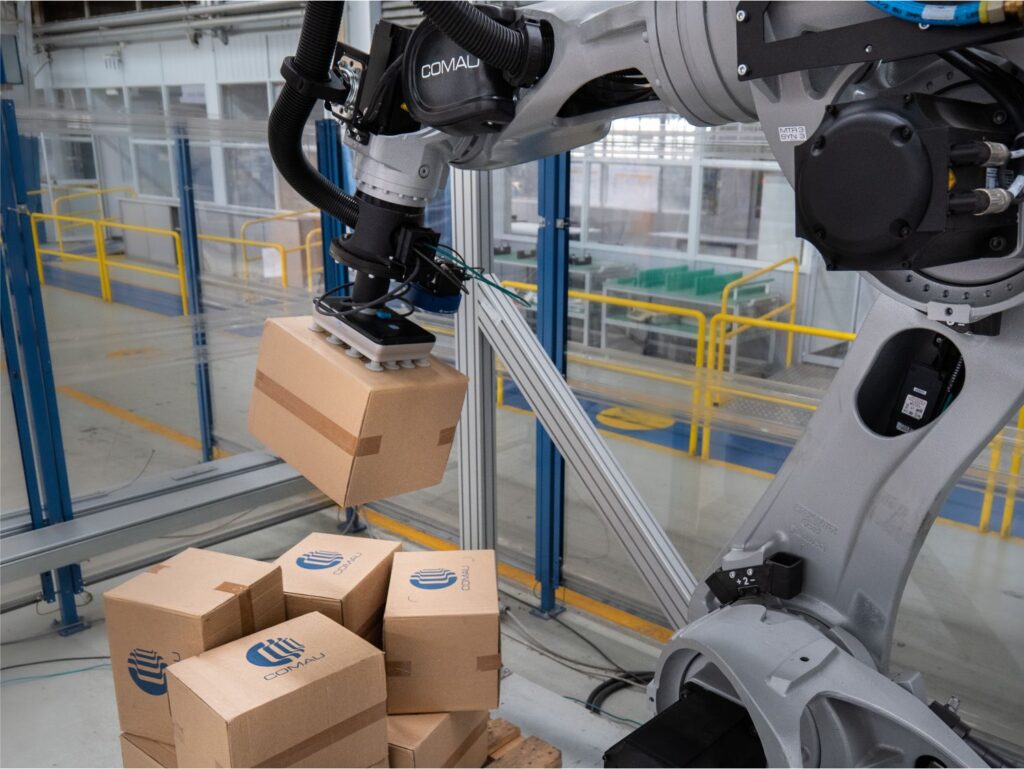 MI.RA/Depalletizer
From standard boxes with well-known sizes to single SKUs with uncertain positions, MI.RA/Depalletizer uses 3D robot guidance and machine learning algorithms to handle even the most fragile containers. The intelligent all-in-one solution delivers higher productivity and ensures precision despite the high variability among SKUs and box positions. Operating at the highest speeds, the solution is also designed to easily recognize and react to different packages with minimum programing effort.
---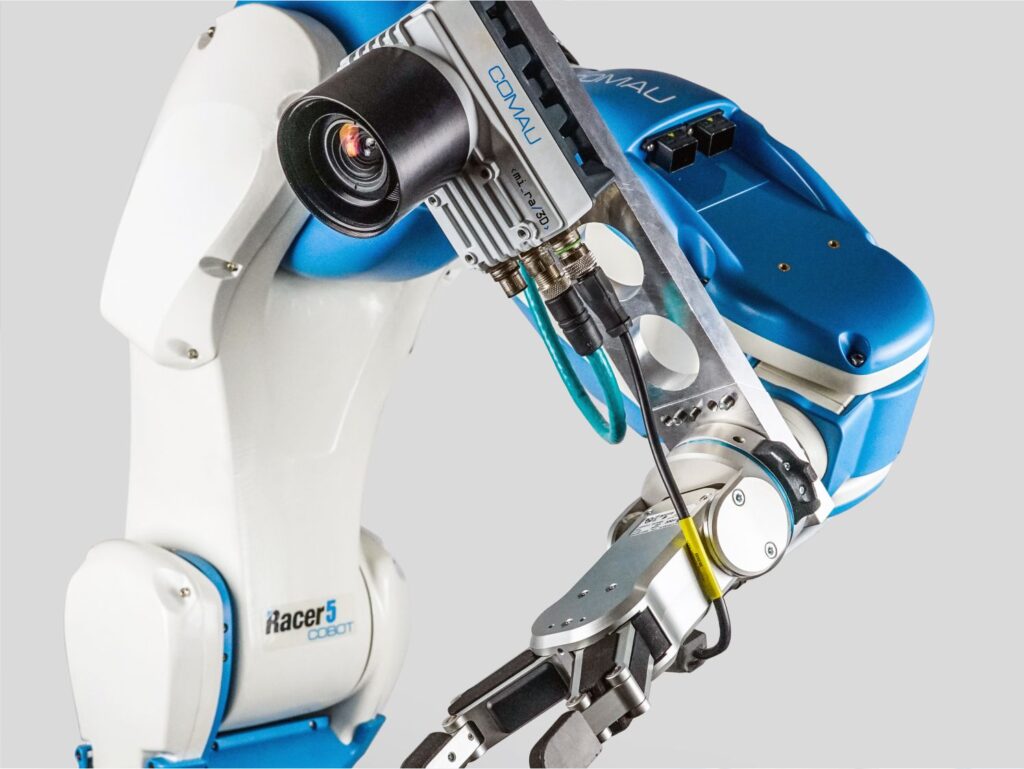 MI.RA/3D
3D robot guidance based on 2D imaging. MI.RA/3D – one of a flexible vision system portfolio empowered by artificial intelligence – solves the need for 3D robot guidance without expensive 3D camera technology. The powerful vision system captures, analyzes and iteratively compares images with a reference in order to successfully assist high-precision operations.
---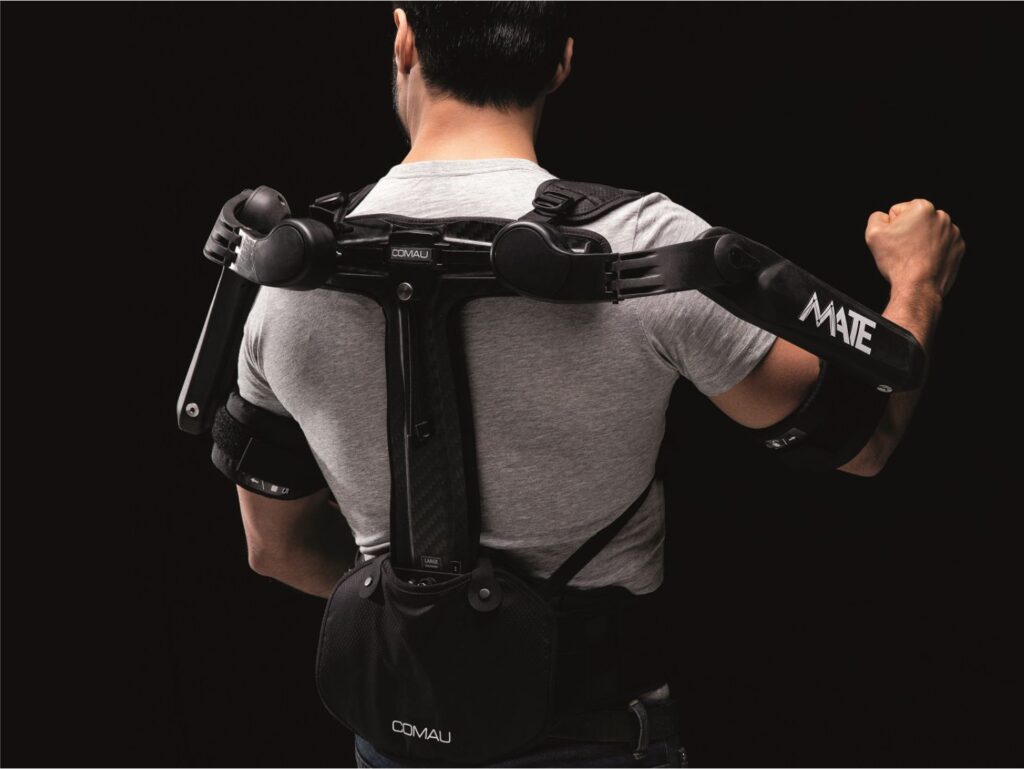 MATE-XT
Discover Comau's unique wearable exoskeleton that accurately replicates all movements of the shoulder, helping employees perform their jobs comfortably by reducing muscle fatigue without limiting mobility or adding bulk. Its ergonomic design can be easily adjusted to fit different people with different body types while helping sustain worker well-being, alleviate physical stress and reduce the ergonomic risk.
---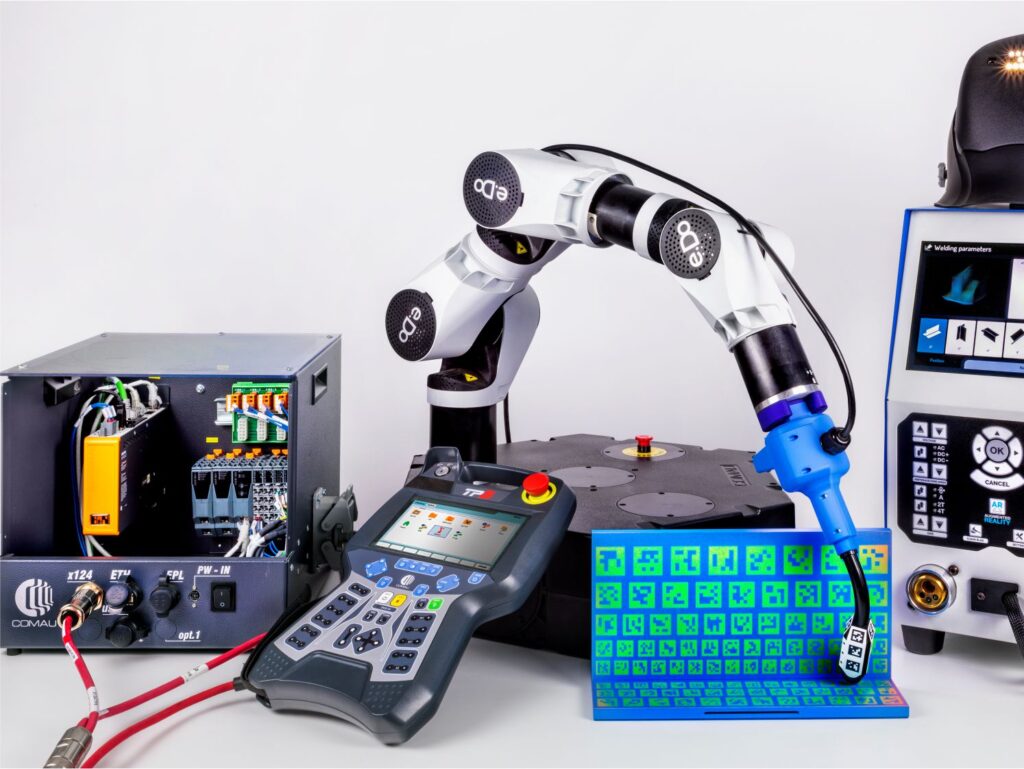 e.DO with Soldamatic
A multi-sensory training interface which creates the most realistic welding training experience. e.DO with Soldamatic is a hands-on solution for teaching robotics welding through augmented reality. By utilizing augmented reality technology to reproduce a real-life robotic welding environment, the solution features hundreds of welding procedures and positions to comprehensively train robotic welders in a very cost-effective way.
---
Shaping innovation
A global leader in automation, Comau recently celebrated its 50th anniversary. Now, the company is shaping innovation with new products, new solutions and an exciting new approach to automating complex, traditionally manual processes – inside and outside the factory. We are ready to support your automation challenges. Join us at Automatica or request more information.
Download the Press Kit.
You can get in touch with our Press Office and Media area, by entering your contact information.
Latest from Comau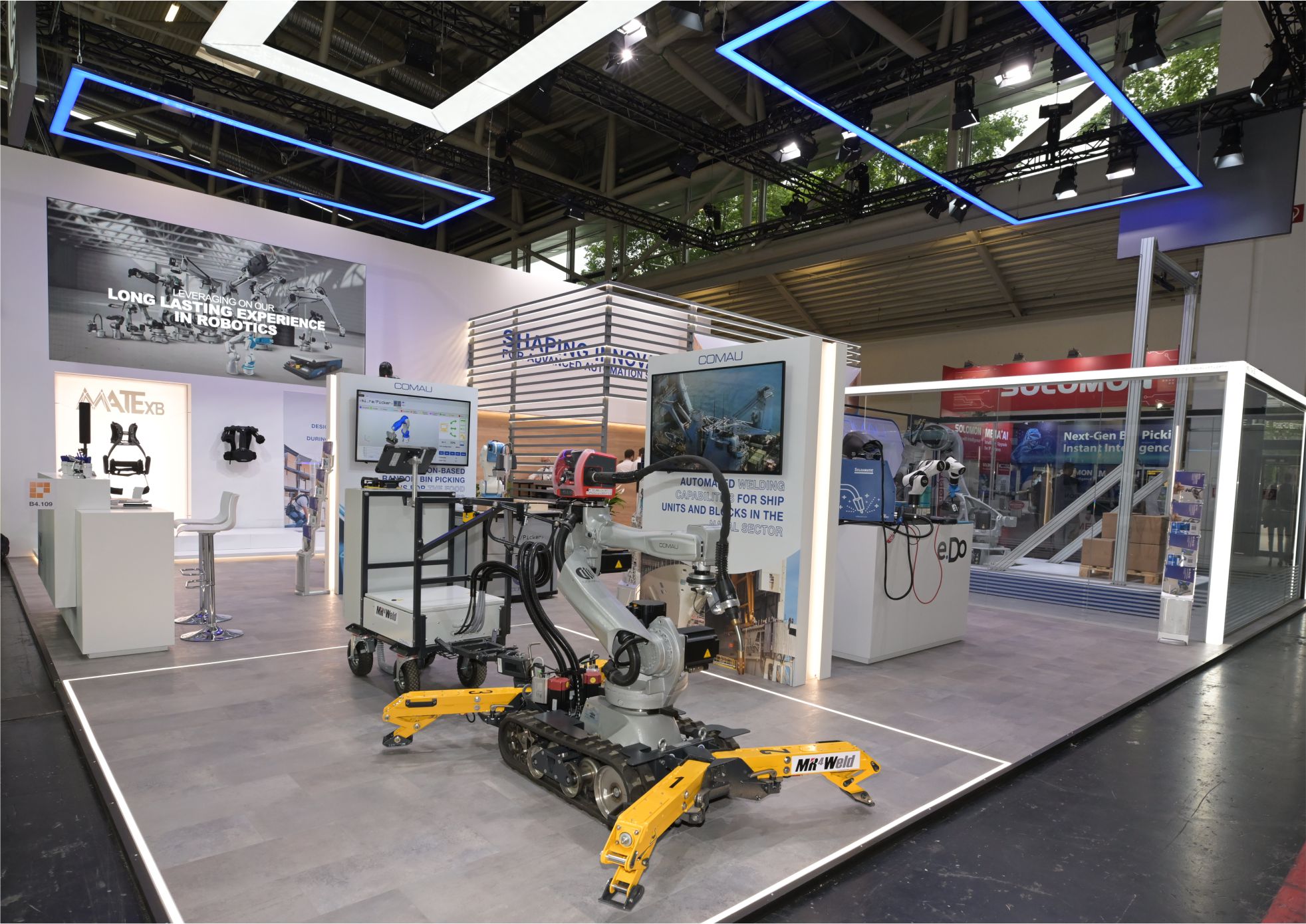 Shaping innovation: Comau launches sustainable advanced automation solutions at automatica 2023, from June 27-30 in Munich (Germany).