Global customer-focused presence

The global marketplace moves too fast to accept delays. At Comau we know that every minute counts when you've got questions.
That's why we've created an international network in 13 different countries. It's our way of guaranteeing that we can respond quickly to your needs, anytime, anywhere.
We're truly global so that we can be genuinely local. Wherever your base of operations sits, Comau's trusted support isn't far. And decades of PMI project management with cross-cultural and multinational teams backs our international network. So you know we can collaborate with your team to drive performance and make things work smoothly.
Comau at a glance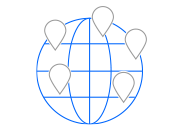 6 Innovation Centers
5 Digital Hubs