The industry of logistics and movement of goods is among those where workers are more exposed to high ergonomic hazards. What does it mean? It means that the tasks performed on a daily basis by operators to do their job, such as loading/unloading goods and lifting weights, can prevent them from keeping a proper and safe posture, thus compromising well-being and health in the long term.
That is why Temi Spa, an Italian logistics company, sole licensee of the GLS brand and lead entity of the Tavassi Group, has chosen, through its collaboration with Progeos, a distributor of wearable robotics solutions for Central and South Italy, to test the use of Comau's innovative MATE-XT upper-limb exoskeleton, for the purpose of improving the work ergonomics and quality for its handlers at its sites of Naples and the Province.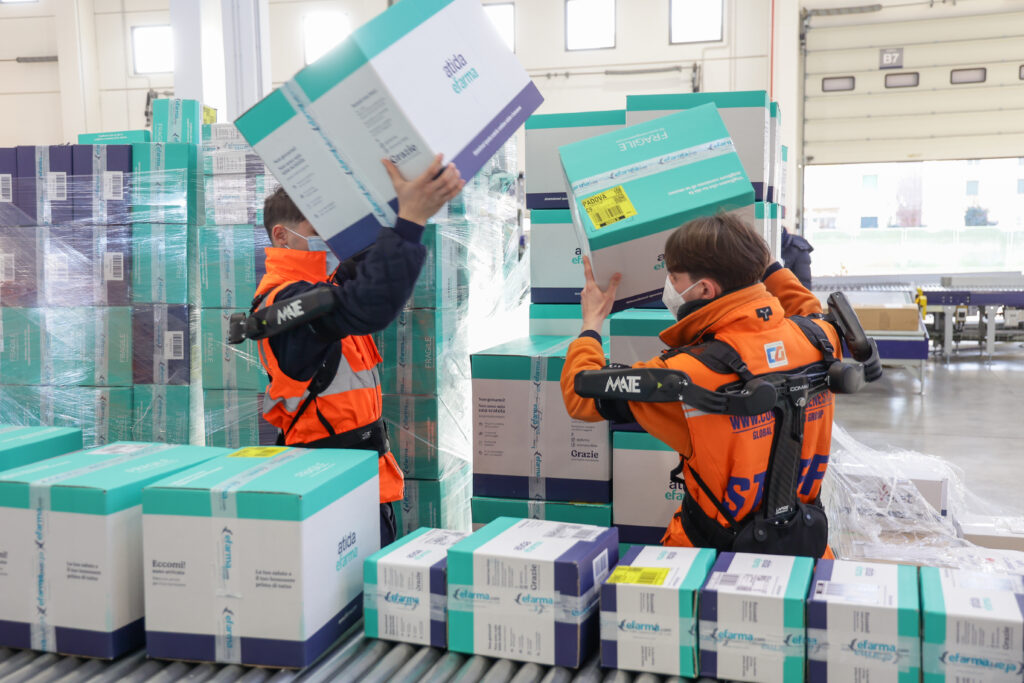 "We asked Progeos to help us test a wearable robotics solution capable of improving the ergonomics of workers performing repetitive tasks, such as loading/unloading and/or lifting parcels of varying weights and volumes – says Stefano Ippolito, c.e.o. of Temi Spa. – Thanks to Comau's MATE-XT exoskeleton, Temi Spa ranks among the first Italian logistics companies that included the use of a wearable robotics technology at various stages of the production process in order to protect their workers, thus helping improve well-being and safety at the workplace and at the same time making it easier to move goods"

Stefano Ippolito, c.e.o. of Temi Spa
"Energy and social sustainability is the main lever for thorough implementation of industry 4.0. – says Francesco Tavassi, Chairman of Temi Spa, further explaining – Technology is the key to achieve both aims: Temi Spa chose to implement state-of-the-art systems for energy self-sufficiency and such systems as the Comau exoskeleton, for the protection of persons"

Francesco Tavassi, Chairman of Temi Spa
The Challenge
At Temi sites, employees in charge of sorting parcels in transit must load on conveyor belts packs of varying weights and volumes which are further directed to various shipping areas, depending on the destination. To perform those tasks, Temi Spa's workers – provided by the Genesy group – do repetitive movements, lifting their arms weighing on shoulders and back. Temi Spa, always paying attention to its employees' protection, chose to invest in a cutting-edge technology to alleviate workers' feeling of fatigue, improving their posture and work quality in the medium-long run, and reducing as much as possible the ergonomic risk inherent in the performance of logistics operations. Thanks to Progeos' advice, the choice fell on Comau's wearable exoskeleton MATE-XT, which assured the company to achieve all expected results.
The Solution
Comau's MATE-XT upper-limb exoskeleton integrated into Temi Spa's pack handling workshops is easy to wear and use. Featuring a slim, lightweight carbon fibre structure, the MATE-XT exoskeleton can be used in whatever work environment, is both breathable and protective, and can be quickly adjusted to any body frame. It is fitted with an intuitive adjustment system offering 8 support levels that can be easily, quickly and autonomously set and changed by the worker without interrupting the task at hand. MATE-XT is easy to wear like a backpack and replicates the operator's physiological movements, thus providing optimal upper body support without any batteries, motors or other failure-prone devices. As an evidence of efficiency of use, MATE-XT is the only commercially available exoskeleton with EAWS (Ergonomic Assessment Work-Sheet) certification, attesting to its ability to reduce workers' biomechanical loads during performance of strenuous tasks.
The Results
Testimonials show that using the Comau exoskeleton helped Temi Spa's workers to alleviate the feeling of back and lumbar area fatigue when they were doing tasks requiring a prolonged lifting of the arms or when they must lift heavy loads. Thus, MATE-XT contributes to reducing workers' feeling of muscle fatigue and consequently the mechanical stress on the back, lumbar area, vertebrae and arms. Based on many data collected at Comau customers' sites, it has been actually demonstrated that the MATE-XT exoskeleton can reduce shoulder muscle activity and the effort felt by workers on their shoulders by 30%, as reported by over 50% of workers who found beneficial upgrades in their job quality. The Comau exoskeleton can further contribute to increase work accuracy by 27% and improving productivity by approx. 10%. It can also help reduce cycle times by at least 5%. From an operational standpoint, MATE-XT helps achieve increased precision, quality and performance. The MATE-XT exoskeleton is being successfully tested at Temi's Naples, Frattamaggiore, Nola and Mariglianella sites.
Shoulder activity and stress