Düsseldorf, 25 October 2023 – Comau brings its portfolio of wearable robotics enhanced with an innovative new exoskeleton to A+A 2023 (Oct. 24-27 in Düsseldorf, Germany).
During the fair, Comau's new wearable device will be shown, MATE-XB fully accommodates the needs of workers engaged in moving cumbersome loads by reducing their lower back fatigue during lifting and repetitive tasks, significantly improving their ergonomics as a result. Developed by Comau and IUVO, MATE-XB is a fully passive device that provides assistance to the back muscles without batteries, motors or other failure-prone devices. Easy to wear and quickly adjustable to fit any body frame, the exoskeleton is water, dust, and element resistant for both indoor and outdoor use, even in highly corrosive marine environments.
Thanks to its capacity to follow the users' movements and its lightweight carbon fiber structure, MATE-XB is the perfect support for logistics, fulfillment, manual palletizing & depalletizing, manual pick & place, bending, lifting from a floor level, and for many other applications requiring operators to bend their backs.
Comau confirms, furthermore, its steadfast engagement in the field of wearable robotics which cover comprehensive body support needs, including the upper body solutions MATE-XT.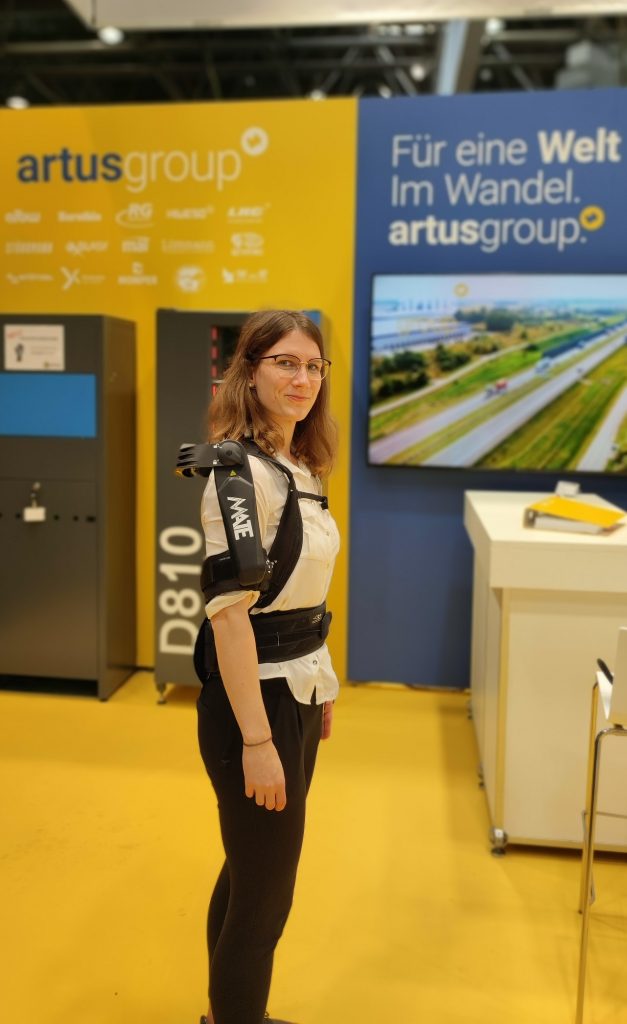 MATE-XT is a mechanically-powered exoskeleton (no batteries, no motors), for relieving muscular effort in the shoulder area for workers operating with elevated arms. It does so by providing physiological assistance during both repetitive and static tasks.
In booth A26, Hall 9, together with the distributor Albw Artus Group – a well-known German company in the personal protective equipment industry – visitors can wear and test the exoskeletons to experience the benefits of the wearable devices first-hand.
Participation in this fair demonstrates Comau's strong presence in Germany and its commitment to grow together with the market by offering its advanced industrial automation solutions and systems. The company has, in fact, been present in Germany for more than 26 years. With its headquarters in Cologne and a growing team of industrial automation experts, Comau is well-positioned to meet the needs of the local market across all sectors. In addition to working with many of the country's top-tier automakers for traditional and electric vehicle manufacturing, Comau Germany is active in other important industries from aerospace to general manufacturing.