Comau's innovative robotics solution automates warehouse logistics to improve efficiency and management for a central kitchen project
The central kitchen business model, which originated in the foodservice industry, centralizes the finishing of prepared or semi-prepared foods, and may also include direct distribution to foodservice operations. This production model provides foodservice with the benefits of industrialized production through unified food procurement, processing, distribution, and automated equipment to achieve standardization, scaling, and informatization of food production and distribution. It also leads to more stable product quality and more reliable hygiene and safety.
The Chengdu Tianfu Smart Kitchen Project (Tianfu Smart Kitchen) is the smartest centralized commercial kitchen project in China, with a total annual production capacity of 300,000 tons. With the objective of creating a perfectly standardized industry for the production, processing and distribution of catering food, Tianfu Smart Kitchen set out to improve its capacity to ensure their catering fulfilment at international events and guarantee group catering services at large-scale events, while also covering catering services for citizens, enterprises, institutions, and schools.
"The industrialization of the catering industry and the rapid development of central kitchens require a high level of expertise and resources to manage, maintain and ensure food safety, in addition to optimizing efficiency," said the manufacturing manager of Chengdu Tianfu Smart Kitchen Technology Co., Ltd. "With Comau's robots and supporting software, flexible and efficient automation in the end-of-line storage and conveying process has been achieved, reducing labor costs and helping us create a more modern Smart Kitchen."
The Challenge
Committed to achieving the highest standards in food safety without sacrificing overall process efficiency, Tianfu Smart Kitchen was actively looking for an end-of-line logistics automation solution to standardize critical manual and semi-manual operations, among which storage, packaging, and end-of-line transfer operations. Furthermore, the system would need to work seamlessly within the central kitchen's production line and in the staging area of semi-finished goods.
To achieve these objectives, Tianfu Smart Kitchen identified critical operational areas for which it asked Comau to intervene: automating its production lines, palletizing, and handling processes, maximizing space and improving production efficiency.
A further challenge came from the complexity and precision required by the extensive warehousing operations, as items would need to be stored efficiently for quicker and more accurate retrieval when they were needed. This requires the use of Automated Storage and Retrieval Systems (AS/RS) equipped with the right robots and conveyors for rapid loading, unloading and transportation. For end-of-line conveying, Comau would also need to ensure that the product could be accurately sorted, packed, and distributed. This goal would require the development of efficient automated sorting and packing systems that could guarantee high precision and productivity.
The Solution
Comau cooperated with system integrator Xinglu Intelligent Packaging (Kunshan) Co., Ltd. (hereinafter referred to as "Xinglu Packaging"), a Xingpack Group company, to design and build a comprehensive robotic solution, including intelligent software and hardware, for Tianfu Smart Kitchen. The logistics automation solution, which is installed at the end of the central kitchen's production line and in the staging area of semi-finished goods, significantly improves the operation efficiency of food packaging and end-of-line transportation. 
Because the huge production volume puts extremely high demands on accessing goods, it was imperative to automate the intelligent access solution to utilize less space while ensuring both performance and low labor intensity. To achieve this, Comau and Xinglu Packaging jointly designed an innovative, octagonal three-dimensional warehouse for the semi-finished goods staging area. In particular, the octagonal structure of the rack combined with the Comau robot maximizes the use of space in the limited storage area. As such, it is both more efficient and improves space utilization compared to the previously used circular, three-dimensional warehouse. It is also more flexible.
After analyzing and calculating the daily production volume, Comau deployed seven high-speed NJ-110-3.0 palletizing robots at the end of the production line. With a working range of up to three meters and a duty cycle of up to 2,100 times per hour, Comau's robots easily exceed the required efficiency by Tianfu Smart Kitchen.
As for the software, the commissioning team used Comau Palletizing Motion to plan tasks and actions for the NJ-series robots. They then continuously optimized the trajectory and orientation of the robotics program, including variable storage bin sizes, storage bin movement modes, automatic return to the nearest storage bin and other dimensions. Such optimization has added flexibility to the overall warehouse management system, allowing the robot to reach the designated storage bin faster and thus satisfy both the solution objectives and improved output capacity.
The Results
Using Comau robots, Xinglu Packaging provided the customer with three sets of octagonal three-dimensional warehouses based on intelligent robots for palletizing storage turnover baskets, effectively improving the automation efficiency of Tianfu Smart Kitchen. The solution also features the innovative and standardized Octagonal Intelligent Warehouse Management System, which is directly applied to the intelligent development of the food industry. Together, the1200 storage spaces directly meet the current capacity demand, with a space utilization rate of 20-30% higher than that of the previously used circular shape. In addition, the integration of automation also reduces the intensive manual work and optimizes the cycle efficiency of the conveyor line.
adaptable to different operation scenarios and payloads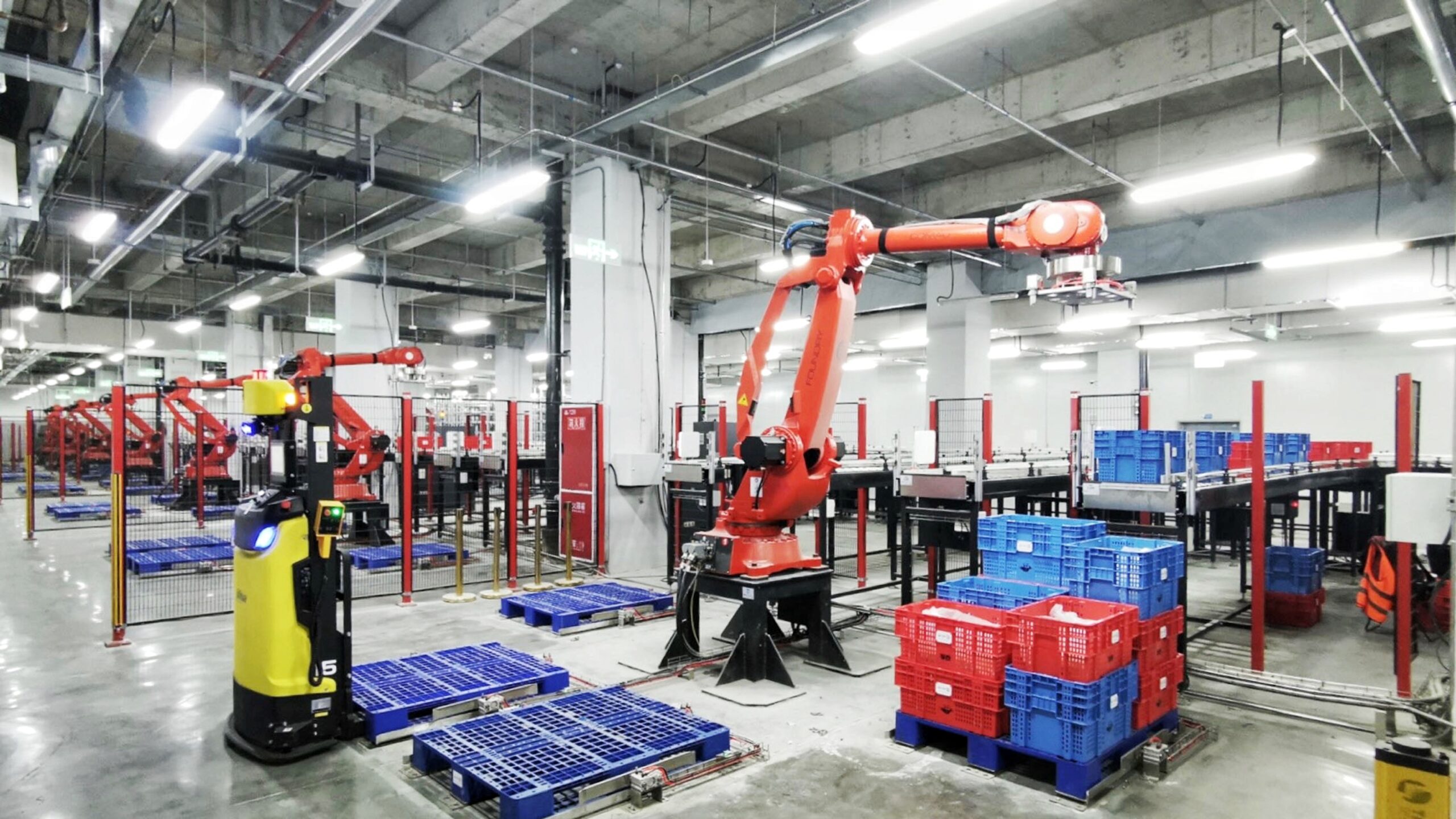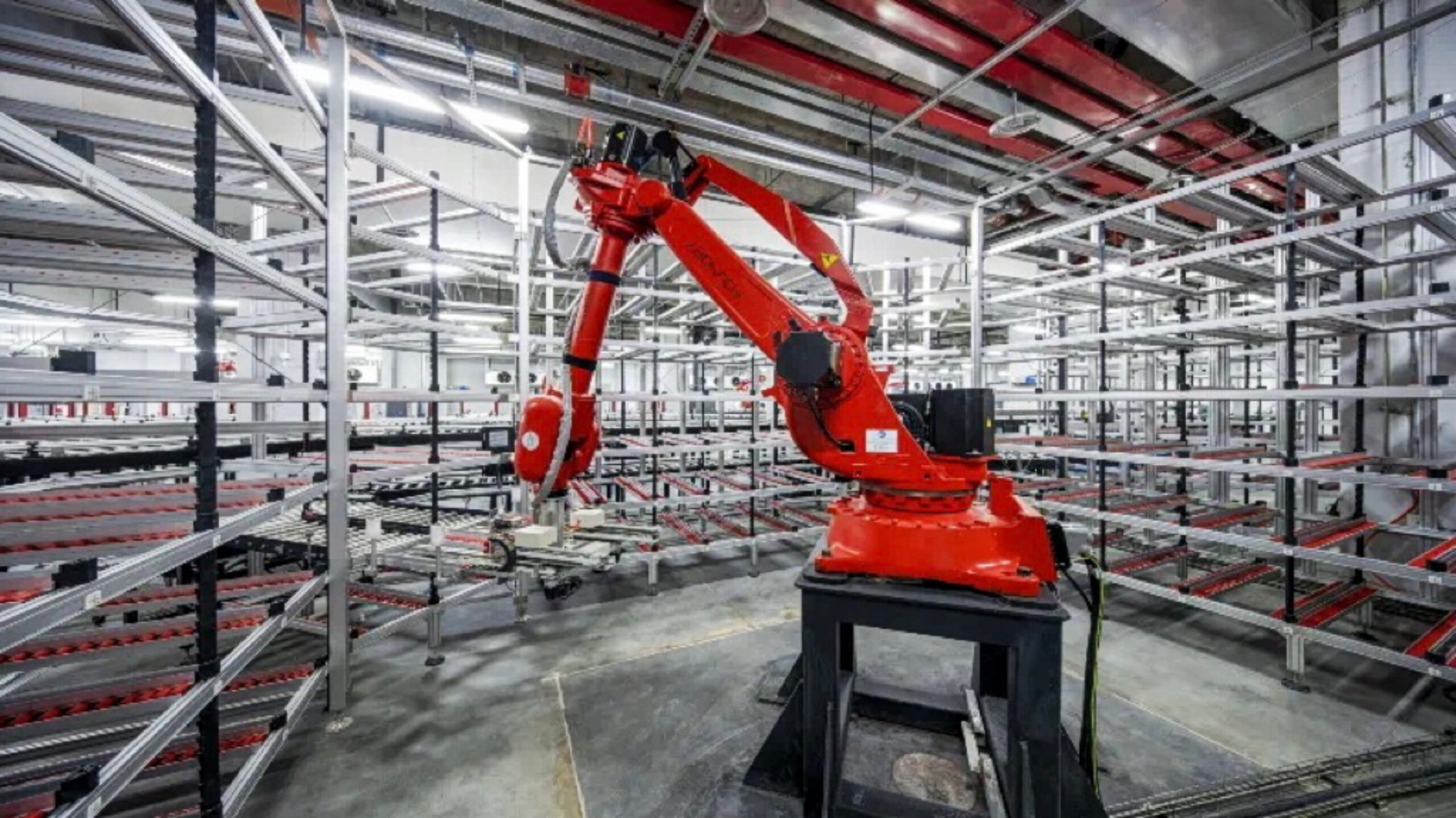 Logistics automation with Comau's high-speed robots