Founded in 1837, John Deere is a global technology company that primarily provides software and equipment for the agriculture, construction, and forestry industries. With an impressive customer base that spans the globe, the company's reputation has been built upon innovative, superior-quality products that reflect its 186-year tradition of integrity. This same pioneering spirit led managers at the organization's parts distribution center to begin researching ways in which they could enhance the safety, health and sustainability of the workforce.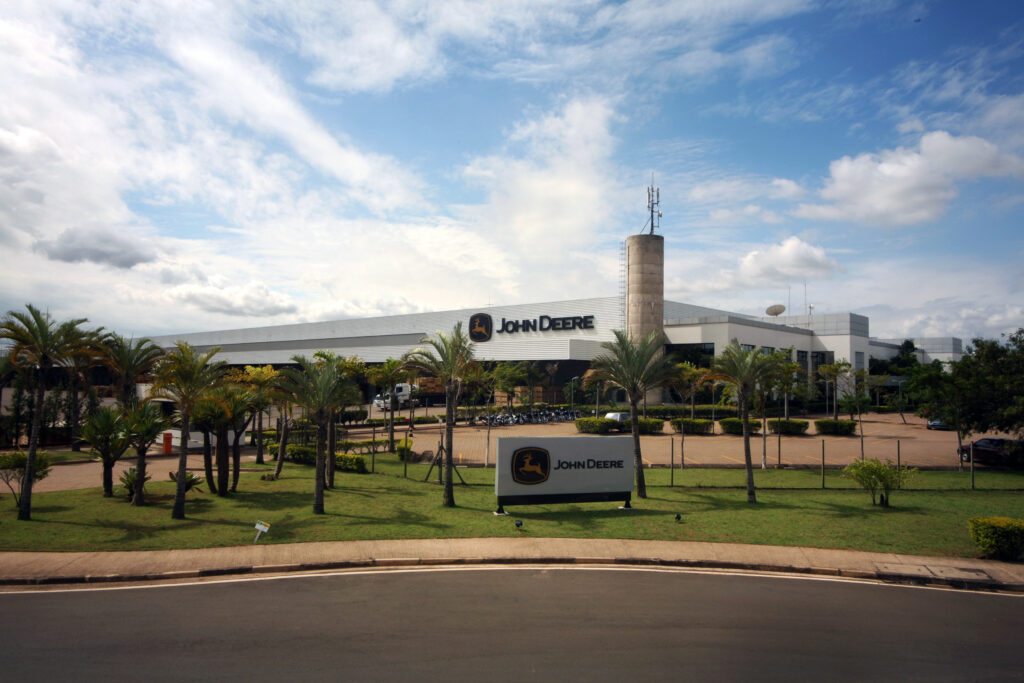 John Deere's parts logistics service plays a key role in helping the agricultural equipment manufacturer quickly satisfy the needs of both dealers and end users. To manage the more than 150,000 different parts needed to support the local market, the company built a 75,000m2 distribution facility in Campinas, in the state of Sao Paulo. Yet size is just part of the picture. To fully satisfy its customers, speed and efficiency is what really counts, as parts are often required for next-day delivery. To achieve this, however, John Deere's employees must manually select, sort and package hundreds of parts per day, a task that involves repetitive movement of the arms, shoulders and back.
In early 2022, the team contacted Helmar De Aquino, an engineer and certified ergonomist at Comau, to explore the degree to which the company's wearable exoskeleton could improve well-being and motivation for employee tasked with lifting, moving and retrieving parts of all shapes, sizes and weights.
"Our efforts to provide customers with innovative automation technologies extends to finding new ways to ensure their workers stay safe during their day-to-day activities, in different applications and markets. MATE-XT is an easy-to-use wearable exoskeleton that allows John Deere to provide greater added value and measurable benefits in terms of reducing perceived muscle fatigue and as a consequence, the mechanical stress on a worker's back, lumbar region, arms and shoulders. It is yet another example of the value that robotics can bring."

Laerte Scarpitta, Comau Leader for the Americas
The Challenge
Intent on improving worker well-being and facilitating ergonomic sustainability, John Deere was actively looking for a viable solution to alleviate the physical strain on its labor force. Improving their posture and work quality was a secondary goal, as the company wanted to reduce the ergonomic risk inherent within the parts logistics operation.
Comau was therefore asked to demonstrate the ergonomic performance of its MATE-XT passive robotic exoskeleton in terms of its effectiveness in reducing the risk of biomechanical overload of the upper limbs. Ensuring overall comfort and adaptability of were two additional requirements, as workers would be wearing the innovative exoskeleton for up to 8 hours per day.
The Solution
MATE-XT turned out to be the perfect solution due to its effectiveness as well as its innovative format. In addition to being lightweight and easy to wear, the MATE-XT exoskeleton accurately replicates all movements of the shoulder, helping employees perform their jobs comfortably by reducing muscle fatigue without reducing mobility or adding bulk. Furthermore, its ergonomic design can be easily adjusted to fit different people with different body types in just a few initial settings – including the length of the shoulder straps and the required level of assistance based on the worker and the job at hand.
In addition to offering breathable and highly effective postural support, MATE-XT is EAWS-certified (Ergonomic Assessment Work-Sheet). In giving John Deere an objective measurement of ergonomic improvement, the team was able to easily calculate the projected benefits in terms of reduced muscle fatigue, execution speed and the projected ROI.
Comau also helped John Deere demystify the use of the exoskeleton in their daily operations, offering a hands-on training course held at the Campinas-based parts distribution center. Finally, Comau's ergonomic experts worked with the customer to monitor the muscle imbalance and energy expenditure of the workers during their routine activities.
After receiving the first MATE-XT exoskeleton in mid-2022, John Deere returned to purchase three additional units six months later. Currently, all four exoskeletons are being used to support packaging operations, with additional units being tested in other areas.
The Results
After deploying the exoskeleton within daily operations, John Deere employees readily accepted the system and enjoy working with it. With a slim, lightweight carbon fiber structure that is worn like a backpack, the MATE-XT exoskeleton offers 8 support levels that can be quickly and easily set and changed as needed without interrupting the task at hand.
Even when working with small and lightweight objects, the apparently minimal effort of repeated manual movements can take a toll on the body. To help John Deere quantify the benefits of using MATE-XT, Comau performed an electromyographic analysis of the ergonomic risk factor. MATE-XT kept the muscle at a rest stage for 98.5% of the activity time, whereas muscular efforts at a rest stage without MATE-XT were limited to only 2.4% of the time.
In terms of posture, MATE-XT ensures proper muscular balance while optimizing the energy expenditure needed to stabilize and sustain the weight of the arm. Wearing the exoskeleton, arm stability can be maintained using only 10% of the operator's maximum force capacity. This translates to an improved feeling of well-being in addition to tangible performance-based results such as process optimization and productivity gains. All said, MATE-XT is helping John Deere to mitigate ergonomic risks and achieve a 68% reduction in muscle overload.
reduction of muscle overload
Muscle kept at rest stage 98.5% of the activity time
Ergonomic risk mitigation