Wide-ranging support
Comau provides comprehensive cross-functional services starting with a worldwide customer care network, an extensive range of spare parts and customized training programs. We also deliver professional machine maintenance and analysis in addition to retrofit and retooling solutions. Our services cover any type of machine, regardless of the manufacturer, and include everything from set-up and commissioning to troubleshooting, testing and custom requests.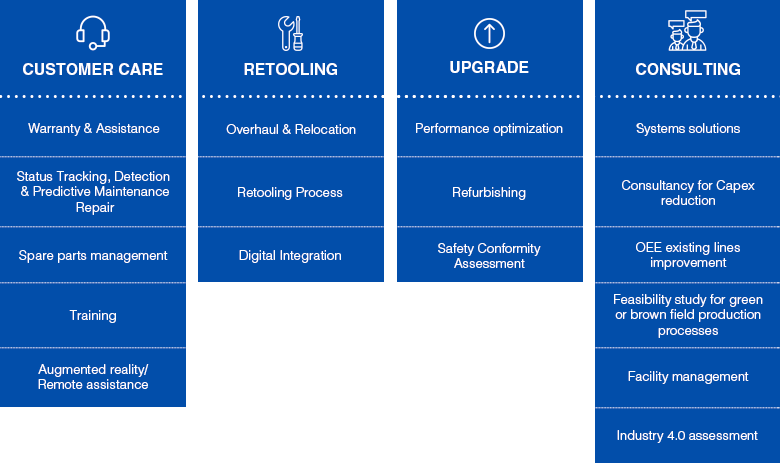 Customer care
Warranty & assistance
Highly-qualified technicians
Warranty checks to keep installed machines fully performing
on demand Assistance and periodic assistance during production
Site support as local presence
Service for changes or modifications on installed machines
Detection & predictive maintenance, status tracking & repair
Machine maintenance partnership concept to assist and complement our clients' plant maintenance team
Geometry check to detect deviations in any motion axis
Fault detection and rectification via remote diagnostics (e-wan)
Spindle performance remote monitoring, Dr. Spindle service
Fast machine restart
Spare parts management
Original spare and wear parts
Package and Kit delivery
Storage solution
Training
We provide standard and tailored training programs to get the most from our machines and maximize the return of your invested capital. Our training is developed based on your needs and is available for any industry and any product in our comprehensive portfolio.
Standard & Advanced training
Personalized Solutions
e-Learning (multimedia learning)
Augmented reality and Remote Assistance
Comau web Academy
Our training courses cover all operational and maintenance tasks including mechanical, electrical, fluidic, programming and trouble-shooting, safety and ergonomics.
Retooling
Our worldwide retrofit is independent of manufacturer and machining processes and involves overhauling of machine tools and machine tool components including IoT solutions.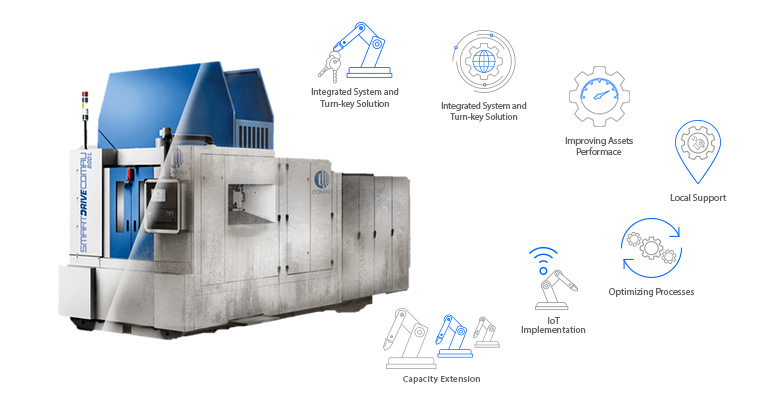 We complete the competence pattern with experts specialized in Purchasing, Manufacturing and Quality Management, Electrical Commissioning and Documentation.
Our expertise
Process engineering & set-up
Integration of new or reused machines
Automation, logistics, grippers
Refurbishing of old machines (any brand)
Site management
Digital Integration
Your needs
Relocation & re-use of existing equipment
Capacity extension
New production program introduction
Short shut-down period
IoT implementation
Your benefits
Trade off costs/quality
Perfect solution between investment cycles
On-time production restart & ramp-up
Tailor-made approach: from different workpieces and project sizes up to turn-key systems
Digital integration benefits

Easy to use
Easy to maintain
Higher OEE (Overall Equipment Efficiency)
Efficient support
Better quality
Continuous improvement
Digital retooling ensures on-going success
Help for utilization & maintenance
Preventive & predictive maintenance
Digital twin services
Remote assistance
Spare parts management
Safety of operators and machines
Cyber security
Upgrade
Performance optimization
Thanks to our process know-how and longstanding experience, Comau service specialists can help increase the production output and efficiency of your machines and systems by modifying BT parameters, introducing new control systems or upgrading to new technologies.
Preliminary technical discussion:
Cycle time check of the current process
Quality check of the current process
Modifications to enhance cycle time and quality of output
Improve reliability and maintainability of equipment
Streamlined ROI
Refurbishment
Refurbishment can allow you to keep a traditional machine without scarifying reliability and quality as an ideal solution to bridge the period before making new technology investments
Mechanical: repair of slides, replacement of wear parts, reconditioning of spindles, replacement of obsolete components, geometry adjustment.
Fluidics: cleaning, leakage fixing, check and exchange of hoses, filters, replacement of obsolete components, adjustment of flow rate and pressure.
Electric: refurbishing of electrical cabinets and panels, replacement of cables, sensors, actuators, replacement of obsolete components.
Control Systems and Drives: replacement of obsolete equipment.
Software: check and software upgrade.
Consulting
We are committed to helping companies improve their competitiveness. To do so, we deliver a powerful blend of competencies and real-world experience to identify and prioritize areas of improvements that can truly impact your business.
Systems solutions
Consultancy for CAPEX reduction
OEE existing lines improvement
Feasibility study for green or brown field production processes
Facility management
Industry 4.0 assessment