Be prepared for the Digital Transformation
Comau's Executive Master in Manufacturing Automation & Digital Transformation helps companies and individuals develop the skills needed to build the advanced industrial automation solutions of the future. The only program of its kind to address both the technical and managerial aspects of industrial automation, it is also the only Executive Master Degree designed and implemented by two industry leaders – Comau and ESCP Europe, the world's oldest business school known for educating generations of leaders and entrepreneurs.
Earn an Executive Master degree in Manufacturing Automation & Digital Transformation combines 32.5 days of hands-on training with an additional 80 hours of distance e-learning, webinars and project work. What's more, the program is specifically designed for executives, directors, managers and professionals who design, make, sell or use industrial automation solutions.
To help working professionals advance their careers and hone their competencies, the comprehensive course is based on an intense and highly-effective learning methodology. At the end of the program, participants will have developed the skills to face the digital transformation of automation solutions and evolving manufacturing paradigms.
The Master has a cost of € 21,000 (all partecipants EU and non –EU), € 3,000 Erly Bird discount until July 27th, 2018.
**Tuition does not include travel and accommodation.
The Executive Master in Manufacturing Automation and Digital Transformation (EMMA) provides senior professionals with the skills required to be flexible thinkers, effective leaders and leading-edge professionals for the 4th industrial revolution.
The first edition was concluded in January 2018 with 31 participants. The participants were mainly part of manufacturing, purchasing and innovation functions.
The coexistence of the economic and the technical aspects and, as well, their coherency are really the strength points of the program.
Beyond the knowledge on industry 4.0, the participants brought home an enlarge and powerful network.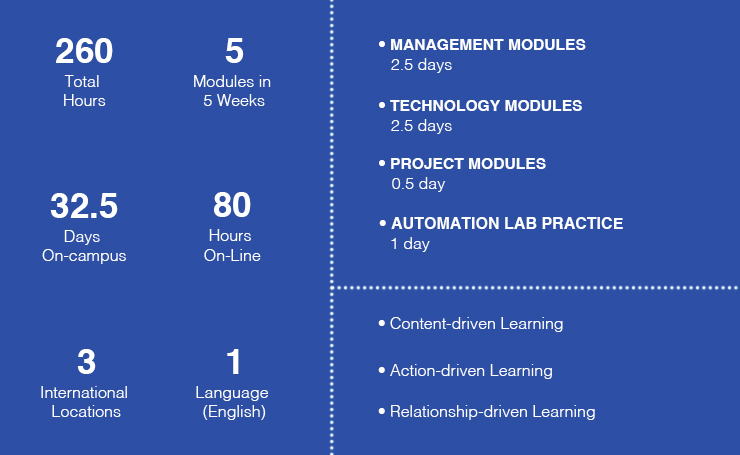 Targeted Skills
Learn to think strategically and lead organizational change, while actively contributing to the development and implementation of industrial automation solutions and improving the current production paradigm.
Our Executive Master in Manufacturing Automation & Digital Transformation is created to help you develop a deep-rooted understanding of technology and markets in order to unlock your potential and design innovative manufacturing solutions.
Targeted skills include:
Identify needs and opportunities for applying automation technologies to manufacturing processes
Actively contribute to the design and development of automation solutions
Apply cost analysis and financial planning techniques to automation projects
Ensure a strong project management governance
Lead a team with the right people management approach
Dialog with product/process design and technical departments
Manage complex and technologically advanced portfolios of supplies and suppliers
Understand the main implications characterizing an interaction between man and machine
Modular Structure Accommodates your Career
​Five modules over five weeks supplemented by self-learning modules and project work.
Accelerated Program Harnesses the Potential of your Employees
​Comau's Master in Manufacturing Automation & Digital Transformation is designed to help you grow and develop your most important assets – people and technology – with minimal time away from day-to-day business. The innovative program not only offers networking and benchmarking opportunities for your company and the sponsored employees, project work is personalized to your business and conducted within your company for a maximum return on investment.
You will join a group of participants with a diverse professional and academic background from around the world. The EMMA programme will offer a unique learning experience merging technology and management for a transformational managerial career.