Comau introduces the potential of the Flex-BD system and its commitment to sustainable electrification solution development at e-waste world 2023
Comau attended the Battery Recycling Conference & Expo, as part of E-Waste World 2023, an international event dedicated to the topic of electrical component and electronic device recycling, held on 28 and 29 June in Frankfurt, Germany, and presented its innovative and circular approach to end-of-life battery management.
At the conference, Francesco Beccarisi, Comau's Innovation Manager, outlined to participants Comau's contribution to developing effective, safe and flexible automation solutions designed to improve the sustainability of production processes in the field of electric mobility and electrification.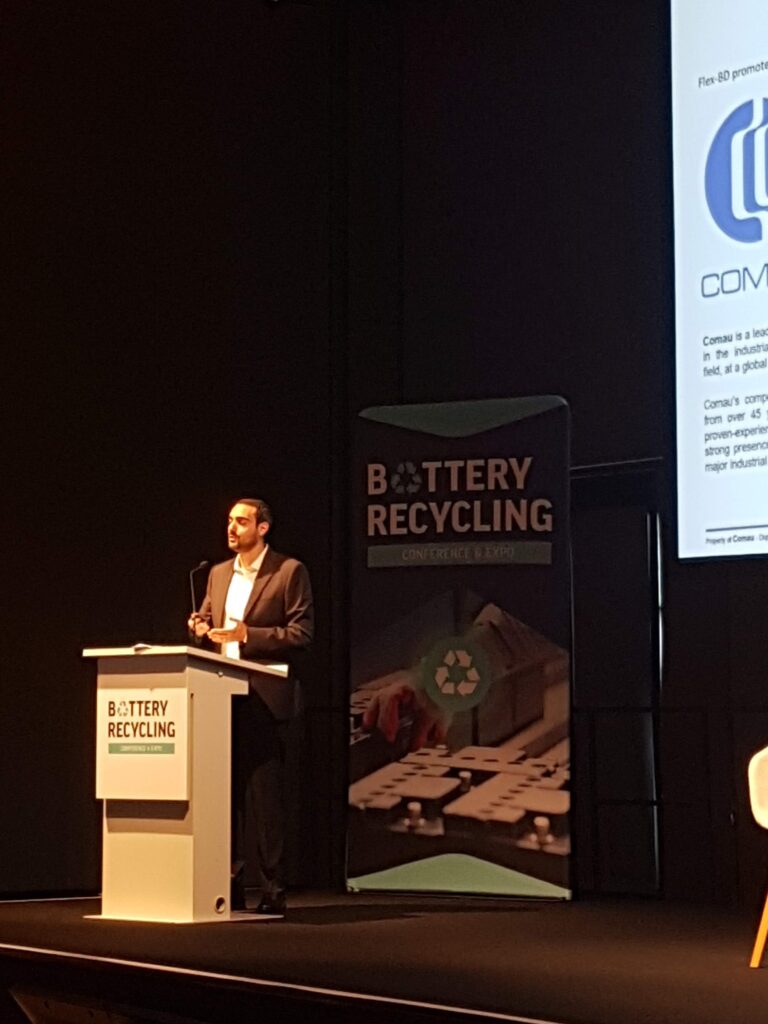 In particular, Comau presented the new robotic system for the dismantling of electric batteries made as part of the European Flexible Battery Printing (Flex-BD) project, promoted by the European innovation community EIT Manufacturing. This innovative automated solution significantly improves manual battery disassembly processes that typically require repetitive and demanding tasks for operators, as well as contact with potentially harmful substances. Flex-DB also makes the recovery process of modules and their components more efficient and sustainable with a view to recycling and reuse of discarded batteries, supporting a circular and environmentally friendly production system.
Specifically, battery packs are individually introduced into a cell within which a Comau NJ high-load industrial robot automatically performs the required applications, also managing its own tool change. Flex-BD has been designed to work with a highly flexible programming approach, based on low code use (low code programming), state-of-the-art environment perception technologies and high reactive capability of the robot.
Based on the expected production volumes of electric batteries in Europe in the coming years, Comau estimates that in the European Union, more than 1 million discarded batteries could be available for reuse by 2030. For this reason, with the development of advanced electric battery recycling and reuse solutions, Comau intends to anticipate a growing market demand, allowing companies to reduce waste and optimize the reuse of raw materials contained in battery packs.
"Comau has long been committed to developing advanced and innovative automation solutions for the production of cells for electric batteries and for the assembly of rechargeable cells. Thanks to their in-depth knowledge of these processes, the company is able to offer the market leading technologies and systems to efficiently and flexibly manage the end-of-life of modules and batteries. The development of the Flex-BD system is proof of this. A project that arises from a network of strategic and valued collaborations, internationally, with which Comau carries on the goal of contributing to the creation of a truly circular and sustainable global economy, in any application sector"

Francesco Beccarisi, Comau Innovation Manager.