After unveiling Comau as Intrinsic's first industrial partner at a virtual product keynote hosted in May, both companies go behind the scenes to show how Flowstate can help solution builders create end-to-end solutions within one tool.
Comau and Intrinsic have been working together for years to test and validate Intrinsic platform capabilities, including intuitive developer workflows, Machine Learning, robotic skill authoring and perception, among others. Working closely with the Intrinsic team, Comau has recently used Intrinsic's new Flowstate developer product to create a modular solution to enable the assembly of a plug-in hybrid electric vehicle (PHEV) supermodule.
With Intrinsic's platform Comau is able to program the robots on a task basis, telling the robot what to do but not exactly how. "The software has the capability to turn robots that are currently simple doers, into smart thinkers", said Nicole Clement, Chief of Marketing of Comau.
The use of the Intrinsic platform will enable Comau to easily utilize scalable, cost-effective, and pre-configured application templates. With that, the advanced automation solutions company unlocks a world of possibilities in areas such as renewable energy, food and pharma, e-commerce, packaging, fulfillment, and others, where it previously was too expensive to automate, or just too complex to be implemented.
At one of the major events in the world, for smart automation and robotics – automatica – which is taking place in Munich, Germany, from June 27- 30, Comau and Intrinsic will showcase how they used the platform to automate the assembly of PHEV supermodules, just one of many possibilities through the platform.
You can also get an exclusive look at Comau's advanced automation solutions for a variety of industries at Automatica. Click here to get the ticket with this voucher code: comauauto23.
Click here to read the blog post by Intrinsic.
View more about partnership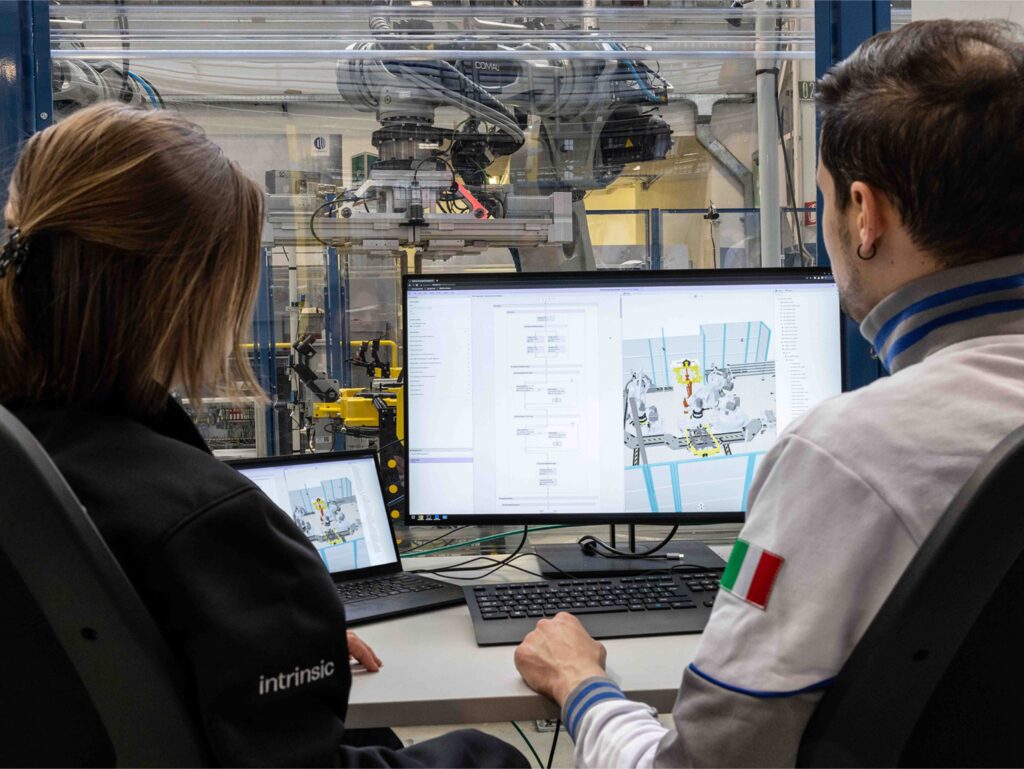 Comau unveiled as Intrinsic's first industrial and innovation partner demonstrating a true acceleration in advanced automation solutions.