Shanghai, May 23, 2023
Comau received the "2022 Capek Engineering Excellence" Award at the 2023 China International Robot Summit and the 9th Capek Award Ceremony, organized by the China Mechatronics Technology Application Association, which was held in Wuhu, Anhui Province on May 18th. The award recognizes Comau for its outstanding performance in the first project of a new energy mass production line for an all-electric model at Volvo's Chengdu plant.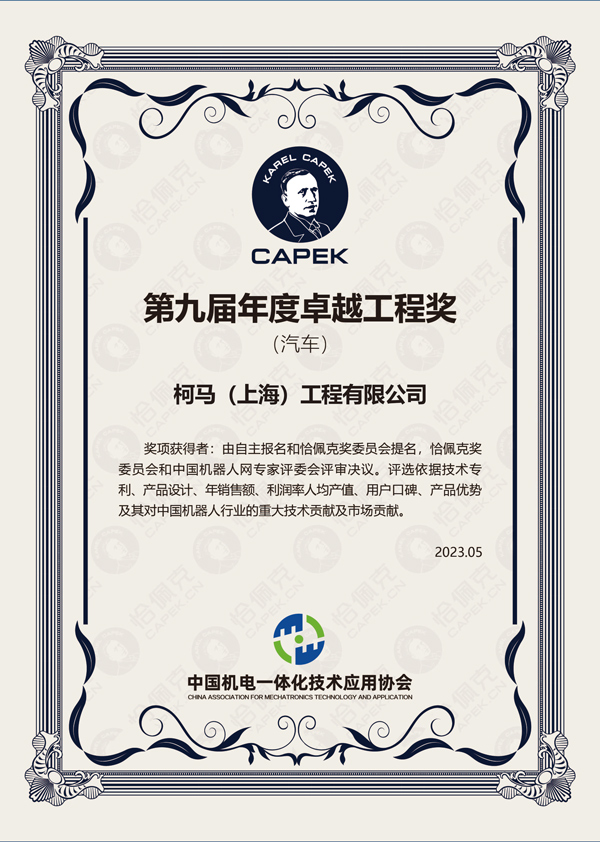 During the award-winning project, Comau developed and implemented a number of innovative technologies, in addition to improving and optimizing existing processes to ensure consistent quality and efficiency at Volvo. Likewise, the integrated delivery capability benefits from Comau's high management standards and efficient site execution.
Comau strictly enforced quality control during the project, refined the on-site construction schedule with job hours and completed all work ahead of schedule while ensuring safety and quality. In the end, process manufacturing and pre-acceptance were completed 7 days ahead of schedule, on-site installation was completed 6 days ahead of schedule and 100% of the problems were resolved prior to shipment, earning the customer's unanimous approval.
Comau is committed to a "customer-centric" approach that supports its customers in key automotive manufacturing processes and adds maximum value to their production through a life-cycle services approach. Constantly seeking opportunities in the midst of challenges, Comau is actively promoting local innovation for the post-pandemic era. In addition to enabling customers to improve the quality and efficiency of their production processes, Comau helps them increase their resilience and competitiveness by developing and delivering a range of electrification and automation solutions and services.