Shanghai, Nov 28, 2022 – The 7th Italian Design Icons took place in Shanghai from November 25 to 27. Under the theme "Re-generation: design & new technologies for a sustainable and better future", Comau exhibited its Racer-3 robot as an example of technology innovation and design, participating in various interactive sessions to present the company's new technology solutions in the field of industrial automation.
With its rich cultural significance and innovative tradition, Italy has always been a world leader in design innovation. It is not surprising, therefore, that Comau combines design and technology when developing its industrial robots and machines to ensure high performance, improved sustainability and the enhanced aesthetics of a line.
Gaetano Cantalupo, Comau Head of Countries Cluster APAC, presented Comau's latest achievements in innovative solutions and products in his keynote speech, including the collaboration with iconic Italian brands such the recently announced projects with Alfa Romeo and Ferrari. For Alfa Romeo, Comau delivered a highly flexible body-in-white manufacturing solution for its brand-new SUV, Tonale, which respected the brand's strict quality requirements and successfully accelerated the time-to-market, thus ensuring the scalability of the customer's initial investment. In the educational robotics field, Comau developed an advanced solution for Ferrari's "e.DO Learning Centre", creating a new educational environment to spark the interest of local youth in learning through robotics. The initiative both highlights the increasing importance of bringing robotics to new sectors and helps support the local community by teaching skills that can be used for future jobs.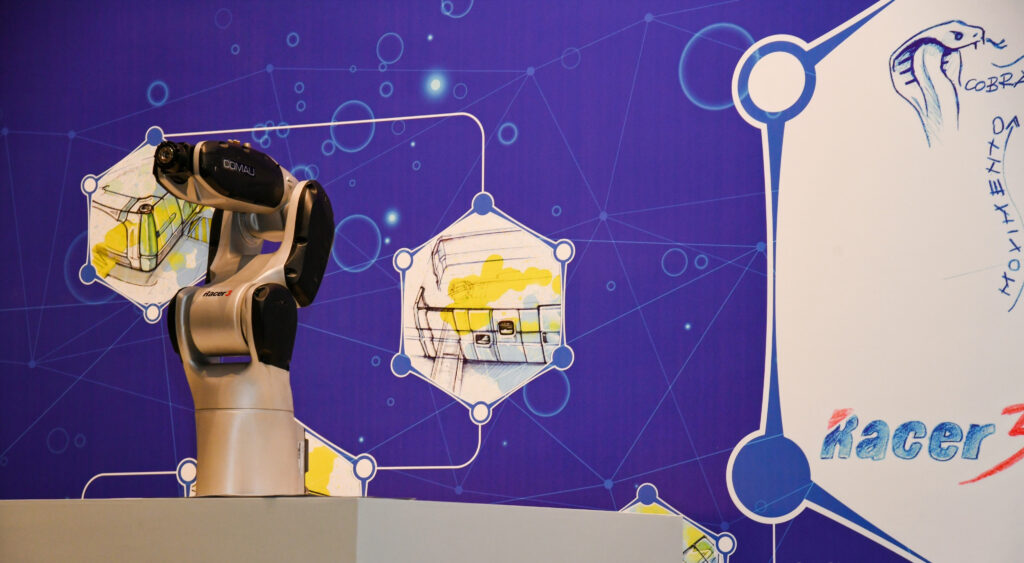 "Through the close collaboration of our global innovation network, we can provide cutting edge technologies to our customers in the automotive industry and in the many other sectors in which Comau is a leader," said Gaetano Cantalupo. "Comau will always see this approach as key to staying competitive and creating value for our customers by continuously improving our local innovation capabilities."
Bie Chao, the Marketing Director of Comau APAC, participated in the panel discussion and mentioned that in recent years, in response to the ever-changing Chinese market, Comau has helped its customers identify their potential needs and develop value-added solutions that meet their requirements and ensure reliability and quality, earning the company the long-term trust of its customers.
The small industrial robot on display, the Racer-3, is one of Comau's signature innovations. Its agile and precise performance, combined with a streamlined, aesthetic appearance, has attracted considerable attention since its launch. Comau uses high-strength aluminum to reduce size and weight without sacrificing speed and stability and with no restrictions on installation or transportation. Furthermore, it features a compact and well-proportioned design that balances fluidity and sportiness. The Racer-3 is designed and developed to provide cost effective automation to small and medium sized businesses around the world while reducing total operating expenses, which is critical for emerging markets that rely on low-cost manufacturing as the backbone of development.