Battery Innovation Days 2023: Comau showcases its cell formation and battery assembly competencies
Comau is participating in Battery Innovation Days, an important industry conference held 14-15 November 2023 in Bordeaux (France). In a series of interviews, you'll meet the team and the pioneering technologies that are making Comau the partner of choice for some of the world's biggest electrification companies.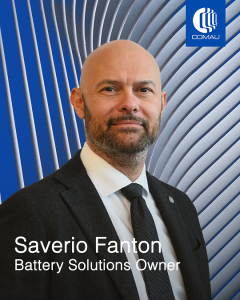 Please introduce yourself and tell us about your role in Comau
Hello everyone! I'm Saverio Fanton, Comau Battery Solutions Owner – Marketing Solutions Portfolio Team.
Because battery solutions are evolving rapidly, together with the materials, formats, machinery and processes to support them, the Marketing team analyzes the market, segments the demands, studies product trends such as cell-to-pack and cell-to-body, researches new processes such as UV coating, laser texturing and welding.
We then define a solutions roadmap that prioritizes development to ensure that Comau applies, to each specific customer, the most suitable solution in terms of maximizing the value of both the technical and economic proposals.
---
Tell us about 'Battery Days' and what you will present
Battery Innovation Days is a two-day event focused on the latest developments in Research and Innovation within the European Battery domain. The event is spearheaded by the Batteries European Partnership Association (BEPA), for which Comau has been a member since 2021.
Because battery cell technology is evolving rapidly, together with the materials, formats, machinery and processes to support it, Comau is constantly evolving our technology to accommodate new formats, new materials and new processes.
Comau will be at the event to showcase our technology advances in cell manufacturing, and module and pack assembly, including new UV coating processes. 
---
What do you hope to achieve during the event?
Comau has been helping customers navigate the multi-faceted world of electrification well before 2016, when we first started working with battery modules and packs. More importantly, Comau's field-proven expertise in designing cutting-edge assembly solutions and managing complex processes spans half a century.
Electrification is now an integral part of Comau's focus, and our cutting-edge technologies and end-to-end electrification solutions are all backed by a dedicated innovation strategy. By staying at the forefront of the effort to speed technology advances in the production, deployment, use, recycling, and disposal of next-generation batteries, Comau is in an ideal position to identify and develop advanced solutions, opportunities for cross-industry collaboration and create value for OEMs and suppliers alike.
The Battery Innovation Days event is the perfect platform to exchange ideas and share best-practice technologies with the aim of advancing the manufacturing process chain at an international level.
---
Please share your thoughts as to why Comau is the best choice of partner for customers in the Electrification sector
The world of vehicle electrification has changed dramatically in recent years and will continue to evolve in the years to come. The new materials that are being tested and used (metallic lithium and solid electrolyte) have mechanical characteristics that are different from conventional ones.
They also require dedicated handling solutions (e.g. cutting tools, pick-and-place systems), unique stacking solutions and more.  With a 360° portfolio of products, processes and technologies, Comau can handle everything from prototyping and pre-production to mass manufacturing of battery cell formation, battery modules and packs (with any cell format), the last phases of the cell production and all the way to end-of-life battery recycling.
By combining our pioneering competencies in automation and electrification, we are fully able to help our customers leverage technology advances and process developments in addition to the enabling digitalization and optimization tools that support them.
Discover how Comau is boosting E-Mobility
You can get in touch with our Sales Area, by entering your contact information.