A comprehensive approach to system Integration
​​No matter how complex your machining needs, our results-oriented methodology and systems expertise can help get you up and running fast. We have the competence to develop any machining process and can assure productivity, flexibility and long-term quality with a wide range of modular products that span the entire production chain. In particular, we offer a complete range of assembly and test equipment within the machining process to deliver increased machining & assembly process consistency across the lifetime of your equipment.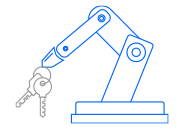 Integrated Systems and Turn-key Solutions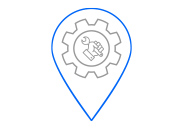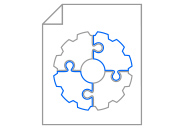 Modular Services Adapted to Your Business
Our expertise
Process Engineering;
Machining Modules, Ancillaries
System Architecture
Automation
Workflow Logistics and Simulation of OEE (Overall Equipment Effectiveness)
Your needs
​​Quality Achievement
Reduced Life Cycle Cost
Flexibility
Your benefits
​​Easier Interface Management
Guaranteed Process Quality
High System Efficiency
Ancillaries equipment
We ensure productivity, long-term quality and continued reliability with a range of ancillaries including assembly and test equipment within the machining process. We also perform activities ranging from marking and final inspection to handling/logistics and integrate outsourced operations to offer complete turn-key systems including honing, washing and measuring. In other words, we deliver integrated solutions that fully accommodate your diverse manufacturing needs – today and tomorrow.
Why
To manage the whole process through one unique supplier
To reduce project management costs (single commissioning site, logistics of trial parts)
To improve machining & assembly process consistency
What
A complete range of assembly and tests solutions
Robotics solutions for high flexibility
Suitable for any kind of process, from manual to automatic
Value Proposition
One supplier for both machining and assembly process
Reduced logistics of trial parts
Process quality
High level of flexibility and re-usability
List of ancillaries made by Comau
Guide & Seat Assembly Station
Leak test (intermediate and final)
Steel balls / plugs / Dowels Assembly station
Caps / bedplate / Ladder frame assembly
Marking station
Final inspection
Automation

Why
To manage the entire process through one unique supplier
To facilitate interfaces
To suit to your production level requirement
The logistics of production line is the backbone of the system
What
A range of solutions for your production line
Robot supply and integration
Engineering and supply of specific gripper and floor automation
Virtual commissioning
Value Proposition
One turnkey supplier mastering the logistics and the interfaces
Enhanced OEE
High level of flexibility and re-usability
Anticipated new or retooling validation by virtual commissioning
Virtual Commissioning: the first step to the Digital Transformation
Virtual Commissioning consists of using 3D simulation tools to test plant changes before these changes actually occur to the physical plant. This technology permits to avoid downtime risks and relative costs, plus leads to fewer startup issues and a faster implementation.
This technology allows to verify and validate plant changes, build a system before greenfield designs are even finalized and, at full extent, use the simulator to train operations and maintenance staff after commissioning or to plan future changes (in this case by engineering experts).