Nowadays, "carbon peaking" and "carbon neutrality" have become global objectives, with China clearly stating its aim to "achieve carbon peaking by 2030 and carbon neutrality by 2060". Driven by this long-term goal, major automakers are focused on achieving energy conservation and emission reduction as early as possible, in addition to the development and research of new energy sources and the introduction of more efficient, more environmentally friendly, and more power-efficient engine products. In 2018, Nissan launched the world's first mass-produced VC-Turbo Engine – a variable compression ratio engine that balances engine power and fuel consumption. The automaker was also able to offer a more competitive price in the Chinese market by localizing production.
"Our 2.0T engine model has both a 4-cylinder in-line engine with variable compression ratio and a 3-cylinder in-line engine with variable compression ratio and turbocharging," explained Dongfeng Nissan Engine Technical Leader Chen Xiaosen. "For strategic reasons, we choose to produce the two types of engines on a common line. The collinear production method puts higher requirements on the production line, however, both to achieve automatic processing, but also in terms of ensuring a reasonable degree of flexibility."

Chen Xiaosen, Dongfeng Nissan Engine Technical Leader
Défi
In January 2019, Dongfeng Nissan commissioned Comau to design and implement a high-speed automated engine assembly system, that would include the main lines (cylinder head assembly, short block assembly, piston connecting rod assembly, bare engine assembly and the engine assembly lines), as well as non-standard machining workstations such as cylinder head finishing equipment, robot loading and unloading stations, and accompanying trays.
Given that the Nissan VC-Turbo Engine is the world's first mass-produced variable compression ratio engine at a mechanical level, and its intelligent machining and assembly line manufacturing project would be the only intelligent automatic production line in China to integrate cylinder head metal cutting and engine assembly, Comau was not able to rely on standard process design paradigms.
To meet this challenge, various key processes for the production of the new energy-efficient engine were explored during the design and implementation thanks to Comau innovation in automation technology. The process design would also need to take into account the customer's high-quality requirements for the products.
An additional challenge involved achieving the customer's high production capacity target of 400,000 units per year. To do so, Comau would need to simultaneously utilize industrialization efficiency and leverage resources in order to produce personalized products within a business model based on intelligent machining – all while taking into account variable working conditions and assembly of production lines on a global scale.
Solution
To meet the customer's quality, production and efficiency requirements, Comau designed an innovative production line that applies a variety of advanced engine automation assembly technologies. This includes the use of seven-axis robots for the cylinder head line automatic loading station, that are able to grip a wide range of workpieces. Similarly, the use of six-axis robots for automatic bolting enables positioning at multiple angles to achieve automatic, flexible tightening. With more than 60 automated stations along the entire line, the range of automation and robotics technologies is quite vast, and has allowed Comau to apply several of its proprietary solutions as part of the key assembly processes.
Comau's patented SmartCell flexible assembly center technology is one such innovation. Integrating assembly automation and machining center technology within a single assembly center, its multi axis CNC (Computer Numerical Control) and rapid tool changing technology delivers one-stop cylinder head assembly. This allows the engine assembly line to dynamically handle a variety of complex assembly processes, including the upgrade of assembly tasks that are traditionally achieved by manual labor due to the high degree of automation difficulty.
The SmartCell flexible assembly center adopts rectangular coordinate robots (6-axis linkage) to fully automate the assembly of all engine head parts, including head valves, valve oil seals, valve springs, valve lock plates, and upper seats. It does so by arranging multiple sets of automatic quick-change assembly fixtures and using parallel assembly processes, working with 6-axis robots, to complete fully automated loading and unloading of cylinder heads and pallets.
Furthermore, an innovative flexible press-fit method and visual positioning system enable automatic loading and disordered gripping. Comau uses the robot's visual positioning system to detect the position of the workpiece in the material frame and randomly grip it on the feed table for mass production. This ensures improved production efficiency, higher flexibility in terms of input material positioning at the front of the robot, and quicker, more accurate detection of disordered input material conditions. In the future, when a model or product change occurs, the customer will simply need to update the program rather than shutting down the system or reinvesting in new technology. In this way, subsequent maintenance costs are saved. More importantly, however, the failure rate of the line can be infinitely decreased to almost zero, which greatly reduces the subsequent usage cost and reduces the workload of the line's maintenance personnel. The production line is also supplemented by the electric cylinder movement, the rapid change of the indenter and the movement of the workpiece, which can dynamically realize the flexible pressing of any part in any position.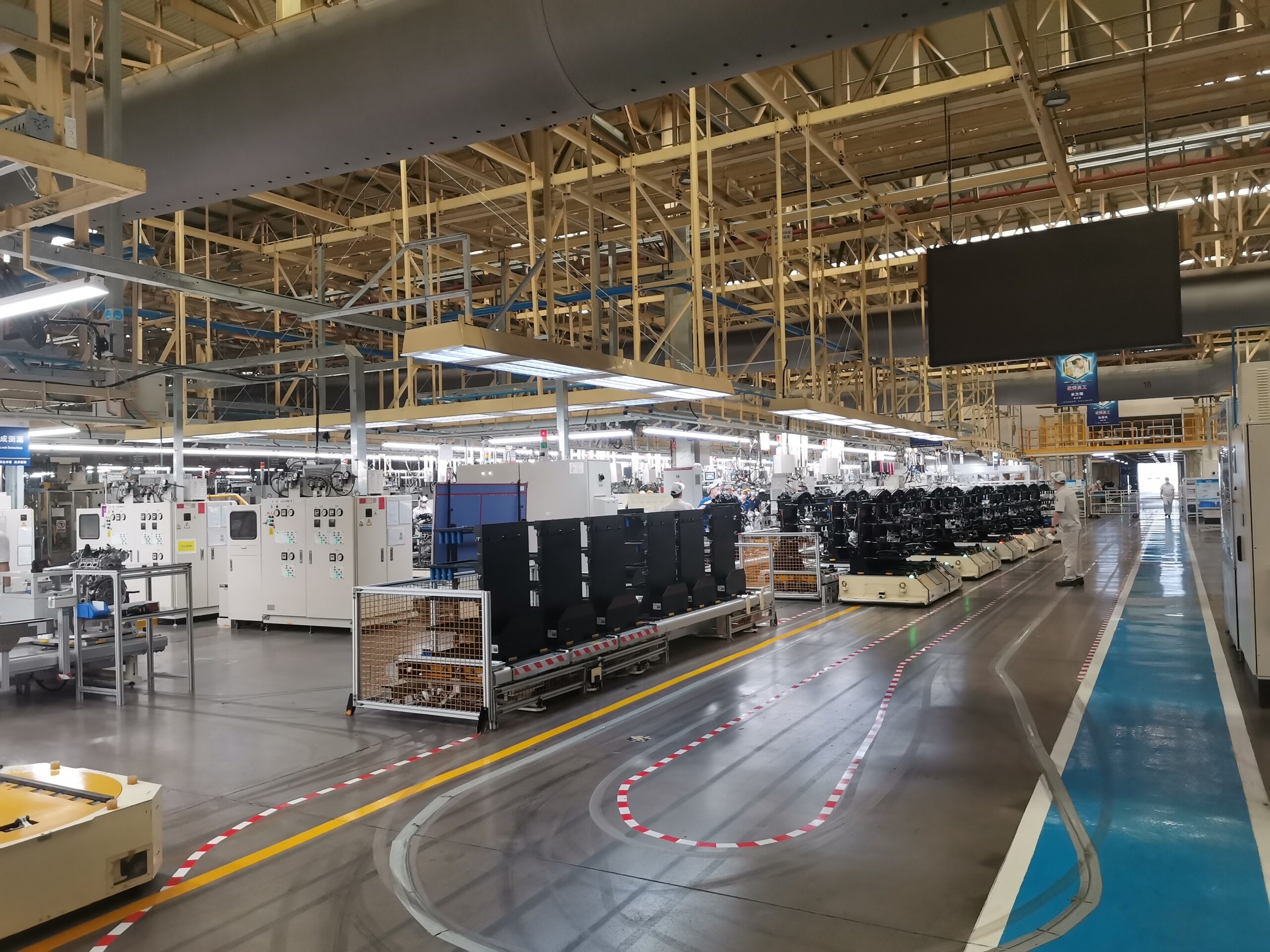 Résultats
Throughout the implementation of the project, a variety of advanced technologies were applied to solve various challenges related to the production of Nissan's new energy-saving engines. At the same time, the project design process, through the use of product lifecycle management software, leveraged digitalization from design through to manufacturing. The digitalization of the whole design, production and manufacturing processes enables Nissan to achieve full process transparency, effective design quality control, reduced design risks, lower manufacturing costs, a shortened production cycle, and an important source of data for subsequent digital manufacturing.
Both engine models successfully entered mass production in August 2020, with an annual capacity of 400,000 units. The Comau solution also enables completely flexible production. When new or modified equipment is required, only the equipment programming and quick-change tooling have to be adapted for the customer to enjoy mixed multi-model production while significantly increasing the engine manufacturing automation rate.
"The Comau team proved the value of their unique capabilities in fully automated assembly and machining. They had the technical systems and vast experience we needed to keep this project competitive on both budget and schedule,"said Bai Zhongjin, Dongfeng Nissan Engine Project Manager.

Bai Zhongjin, Dongfeng Nissan Engine Project Manager
jobs per year production capacity
success rate for the single loading machines